Intuitive art by Boukje
The passion I feel for colour is translated into my art. Every work of art is created out of love. My strong intuitive feelings help me to incorporate a special emotional intention in a unique composition of forms and vivid colours.

The experience has taught me that intuitive art works can be of great value to the person the art work has been created for especially.
I vary making intuitive art with creating fine art paintings and abstract-figurative art. These works of art can be found at www.boukjesart.nl.
Does my art reach out to your heart? Please contact me (without obligation) and I will let you see and experience my art works in real life.
contact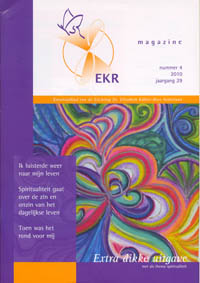 Drawing 'Spiritual Growth' on the cover of the magazine of the Foundation Dr. Elisabeth Kübler-Ross Netherlands (number 4, 2010)